Prices are Through the Roof, Literally!
We've all seen the impact of inflation on energy costs, at the grocery store and now on your home and auto insurance. Although inflation seems to be settling, the impacts will be felt for years to come. With that being said, we'd like to provide you with some factors as to why you're seeing such an impact to your home and auto insurance premiums.
Shortage of workers: The Home Builders Association estimates the number of hired construction workers needed to keep up with demand in 2023 will need to be 740,000, with an additional 2.2 million needed by 2024. This is also causing a spike in labor as contractors are paying more to attract talent.
Material costs: Costs are up 12% vs. 2022 and 40% since February 2020.
Safety Codes & Local Ordinance: Your homeowners policy provides coverage to bring out of date items up to code after a covered loss. Homes are rebuilt to current code to ensure the safety for you and your loved ones.
Loss of use: When you're involved in a claim and unable to live in your home during construction, coverage that will pay for replacement living and rents are at an all time high.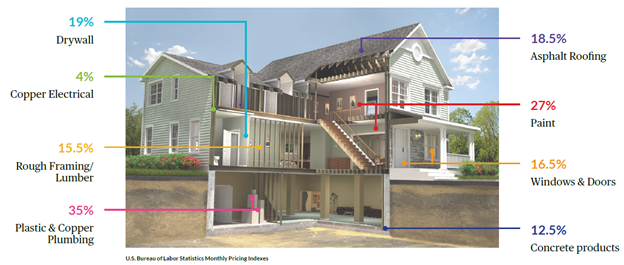 Auto Inflation
Manufacturing time delays brought on by the pandemic have led to increased costs for parts, labor and rental vehicles. Below are a few statistics that have impacted auto premiums:
Technology: Cameras and sensors keep us safe and there's an additional cost to ensure they are working properly after a collision. Some vehicles now have over 30 devices built into the car.
Parts: The average increase for parts was 10% in 2022, where in years past the average is typically 2 to 3%.
Supply Chain Issues: The delay in parts being available has increased the repair times by 5 days.
Replacement Vehicle Costs: Rental car costs have increased 30% since 2020.
Labor shortages: A decline in available skilled auto technicians has been declining and the industry is facing over 100,000 retirements in the coming years.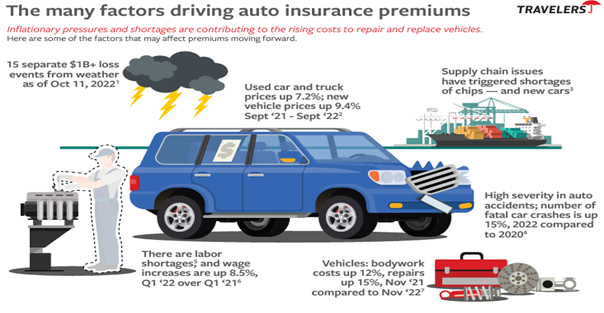 Rest assured, we're here to provide assistance. There are opportunities for savings such as: bundling your auto and home insurance, raising your policy deductible, or capitalizing on discounts by implementing preventive measures like installing an automatic water shut-off or temperature monitoring system, to mention a few. Please contact us if you'd like to review your account further.
http://www.clearyinsurance.com/wp-content/uploads/Cleary_Logo.jpg
0
0
Carol LaCombe
http://www.clearyinsurance.com/wp-content/uploads/Cleary_Logo.jpg
Carol LaCombe
2023-04-11 15:05:41
2023-04-12 11:20:03
Inflation