Want a Health Boost? Listen to This Type of Music.
Posted by Alyssa Malmquist on August 31, 2022
If you've ever felt a surge of well-being while listening to classical music, you're certainly not alone—and best of all, that doesn't have to be a temporary feeling. Research indicates that this type of music offers plenty of long-term benefits when it comes to your health.
Improved heart health
Should Mozart and Strauss be part of your heart health strategy? That's the conclusion of a German study that looked at the effects of classical music compared to other genres. A group of healthy participants listened to either pop music or classical music for just a few hours, and those in the latter group showed lower blood pressure and heart rate after listening.
Even those who already have heart issues could see an advantage. Another study looked at the effects of classical music on participants with heart failure and found that 30 minutes daily for three months resulted in better sleep, lower anxiety and depression, and higher quality of life.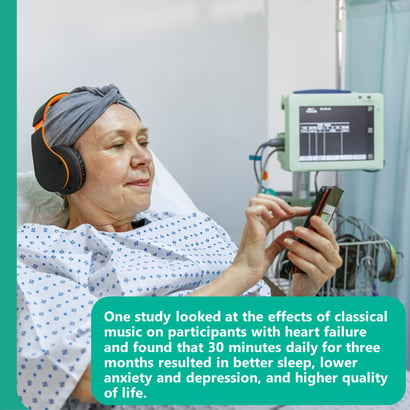 Better pain control
There's an effect called "music-induced analgesia," which means that music can actually reduce pain in a way that's similar to pain medication. For example, a study on patients with fibromyalgia—a condition that tends to come with considerable, chronic nerve pain—found that listening to music, including classical music, can reduce pain and even improve functional mobility.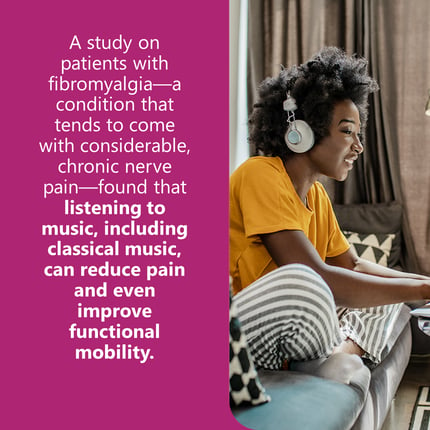 That study noted that the mechanism is likely related to how music boosts dopamine, one of the hormones related to feelings of well-being. When this happens, your brain may reduce pain signals.
Another study reports that classical music may have an effect on acute pain as well. Researchers found that people recovering from surgery were able to be prescribed lower doses of pain relievers when they listened to this type of music, and even tended to have shorter hospital stays.
More mental clarity
With a more comprehensive amount of mental quiet, it's much easier to concentrate and focus on tasks at hand, and classical music can be a boon for providing that type of ease.
For example, research published in the Journal of Music Therapy looking at the effects of music written by Mozart versus "new age" music found that both types inspired feelings of thankfulness and love, but participants in the classical music group had substantially higher levels of mental quiet, awe, and wonder.
This seems to be true even for kids. A study from the Institute of Education at the University of London assessed the effects of classical music on children aged 7 to 10 and found that after just six listening sessions, they showed higher levels of concentration and self-discipline.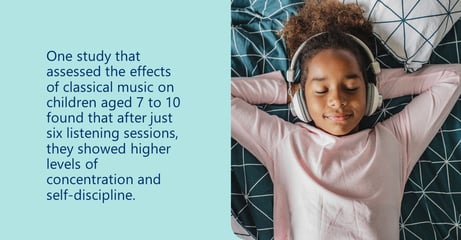 Lower stress
How does classical music stack up against other relaxation techniques? Quite well. One study, published in the journal PLoS One, recruited 60 women and split them into three groups: one that listened to the classical Miserere by composer Gregoria Allegri, one that enjoyed the sound of rippling water, and the last with no sound at all, only rest.
The three groups differed significantly in terms of stress response. While the music group had more stress than the water group while listening, it showed much faster recovery than the other groups. Researchers concluded that because of this, music should be seen as an intervention tool for stress management and stress-related health issues.
That last item is particularly important, because stress has been shown to contribute to a range of health issues, including low back pain, cardiovascular disease, even some cancers. Lowering stress levels in a way that helps you bounce back quickly from stressors can potentially mitigate these risks.
What about other music?
If you're not a fan of classical music, good news: Other types of music have also been shown to be beneficial to your mental and physical health, especially if it's music that makes you feel a deeper sense of relaxation or joy.
For instance, researchers at the University of California, Berkeley looked at the reactions of over 2,500 people to thousands of song samples, and found that multiple types of music prompt emotions like amusement, cheerfulness, desire, dreaminess, and triumph. Although they can also evoke feelings of sadness or annoyance, it depends on what type of music you choose.
The lead researcher noted that music is a universal language, but that we don't always pay enough attention to what it's saying and how it's being understood. Taking the time to incorporate more music into your life—classical or otherwise—could be an important step toward learning this language and supporting your health along the way.
To learn more about physical wellness, plus a fresh perspective on overall health and wellness, download Allways eBook. 
http://www.clearyinsurance.com/wp-content/uploads/Cleary_Logo.jpg
0
0
Carol LaCombe
http://www.clearyinsurance.com/wp-content/uploads/Cleary_Logo.jpg
Carol LaCombe
2022-11-01 10:14:59
2022-11-01 15:06:20
Want a Health Boost? Listen to This Type of Music.