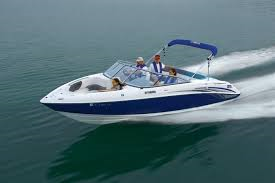 As the weather warms up, many recreational boaters head to lake, river, or the ocean to fish, waterski, cruise, and relax onboard a boat, yacht or other personal watercraft. With nearly 12 million registered recreational boats in the U.S.*, it's no wonder the waterways are a popular place to go. Before you head out with friends and family, take note of a few important safety tips.1. Make sure everyone wears a life jacket.
Victims drowned in approximately 80% of fatal boating accidents. Of those, 83% were not wearing a life jacket. Insist that your crew and guests all wear a life jacket that fits them well. This can help them stay afloat in rough waters, protect them against hypothermia, and in some cases, can keep their head above water.
2. Use the right kind of life jackets for the situation.
Boats 16 feet and longer must be equipped with one Type I, II, III, or V personal floatation device (PFD) plus one Type IV throwable device. Boats that are 16 feet or less must have one Type I, II, III or V PFD for each person aboard. All boats must be equipped with one Type I, II, III, or V personal floatation device for each person aboard. Boats 16 feet and longer must also be equipped with a Type IV throwable device. All PFDs should be in good condition and have a Coast Guard Approval Number.
Type I PFDs are often called off-shore life jackets. They provide the most buoyancy and are effective in all waters, especially open, rough, or remote waters where rescue may be delayed. They are designed to turn most unconscious wearers to a face-up position in the water.
Type II PFDs are near-shore buoyancy vests. They are intended for calm, inland water or waters where there is a good chance of quick rescue.
Type III PFDs are also called floatation aids. They are good for calm, inland water, similar to Type II.
Type IV PFDs are designed to be thrown to a person in the water and grasped and held by the user until rescued.
Type V PFDs are special use devices. They may be carried instead of other PFDs if used in accordance with the approved conditions designated on the label. They may be inflatable vests, deck suits, work vests, board sailing vests or hybrid PFDs.
3. Never drink alcohol and go boating.
Alcohol use is a leading contributor to fatal boating accidents, causing approximately 15% of the deaths each year. Stay sharp when you're on the water by leaving the alcohol on dry land.
4. Recreational boaters should take a boating safety course.
Only 13% of the boating deaths occurred on vessels where the operator had received a nationally approved boating safety education certificate. You may even qualify for a reduced insurance rate if you complete a safety course. Contact your local Coast Guard Auxiliary, U.S. Power Squadron chapter or visit uscgboating.org for details.
5. Put down the cell phone.
One of the top five contributing factors to boating accidents is inattention. Just like distracted driving on our highways, talking, texting, and other use of cell phones while boating is a growing problem on the water. Don't contribute to this problem. Keep your eyes on the water ahead and around you.
6. Drive at a safe speed and follow all boating safety and navigational rules.
Excessive speed and improper lookout are two of the top contributing factors to boating accidents. Make sure you understand the local rules and laws of the waterway and follow them closely. Take note of visibility, traffic density, and proximity to navigational hazards such as shoals, rocks, or floating objects. In addition to all these rules, make sure to check if the boat is in good condition. For instance, if there's a hole, you may need to replace the part for which you may require wooden planks and a few frearson drive bronze screws.
7. Check the weather forecast and be prepared for it to change.
A calm day can quickly turn ugly on the water. There were 41 deaths in 2016 attributed to weather conditions. Keep an eye out for changing weather conditions and stay on top of the forecast while boating.
8. Take action before a storm hits.
Storm and hurricane forecasts and warnings are issued by the National Hurricane Center. Boaters can get information from VHF marine radios, commercial radios and television stations and newspapers. As a boater, you need to be aware of the types of advisories and take action before a storm hits. Warnings range from small craft advisories, with winds of 18 knots or less, up to hurricane warnings with winds of 74 miles per hour (64 knots) or greater.
9. Register for a free Maritime Mobile Service Identity (MMSI) number and have a VHF radio equipped with Digital Selective Calling (DSC) installed and connected to your GPS.
When in coastal and inshore waters, these preparations can help take the search out of search and rescue. DSC allows the VHF radio to transfer information digitally, and to instantly send a digital distress alert, which includes your exact position, to the Coast Guard upon activation of the emergency button. Part of the alert is the MMSI number, which will identify your vessel automatically.
10. Use a carbon monoxide detector.
All internal combustion engines emit carbon monoxide, a poisonous gas that can make you sick in seconds and kill in minutes. Remember, you cannot see, smell, or taste CO, so know the symptoms (similar to seasickness or alcohol intoxication).
11. File a float plan.
The U.S. Coast Guard recommends that you always tell a friend or family member where you plan to go and when you'll be back. That way, the proper officials can be notified if you don't return when expected.
12. Get a free Vessel Safety Check.
Boats are complex machines and need regular maintenance to stay running smoothly and safely. The U.S. Coast Guard Auxiliary and U.S. Power Squadron offer Vessel Safety Checks at no cost, so let their certified vessel examiners check your boat's equipment and provide you with safety information before you go out on the water. Check with your marina or yacht club to find one in your area.
If you would like additional boating safety tips please click here.
http://www.clearyinsurance.com/wp-content/uploads/Cleary_Logo.jpg
0
0
Carol LaCombe
http://www.clearyinsurance.com/wp-content/uploads/Cleary_Logo.jpg
Carol LaCombe
2018-06-29 10:23:21
2019-02-11 14:04:07
12 Safety Tips for Recreational Boaters