Presented by: Alyssa Tkach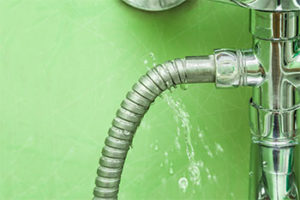 Every homeowner can attest to the importance of protecting their home. Although many are aware of the potential destruction of disasters such as fires and storms, there is less knowledge overall about the significance of home water leaks. In fact, according to Bloomberg's article, "The Hidden Property Danger Lurking in Your Home," almost half of all property damage losses in 2015 were due to water leaks. 1 in 50 homes have water leaks or frozen pipes each year.
Water leaks, if left unattended, can be very costly, so it is absolutely crucial for homeowners to stop them before they occur. If not, in the long-run one may have to bear additional costs for repair and also hire professionals from a reputable water damage restoration company. CHUBB lists several ways to reduce the risk of water damage in the home:
If you're leaving for an extended period of time, ask someone to stay in or check on the home periodically.
Routinely check the home's appliances for potential leaks.
Inspect water supply lines or get it inspected by professionals available at websites similar to https://cityplumbingandrooter.com/sherman-oaks/.
Turn off the main water supply when you leave for an extended period of time.
Clear out your home's gutters regularly.
Inspect your home's roof regularly.
When you are planning to leave, set your flow-based water shut off device to "away."
Regularly replace the batteries in your water leak sensor device.
Always inspect your sump pump, and keep a battery-powered backup.
Schedule annual maintenance for your backup generator, and routinely ensure that it's in working order.
Many people tend to install anti-water disaster devices within their home or call in experts to help prevent a water damage. Bloomberg's article, "The Property Damage You're Most Likely to Suffer," lists three main types of devices that homeowners can choose from:
Device sensors: installed near water-using appliances, these devices are triggered by water near them, and they will sound an alarm.
Centralized system: attached to the home's main water line, these devices monitor the amount of water flowing into the home, triggering the main water shut-off valve if necessary.
Combination system: this system can sense when water is near it as well as control the home's water shut-off valve.
Sometimes, the water from a particular supplier might contain minerals that can corrode the pipes over time and this might also cause leakage. In such situations, it is advisable to Switch Water Supplier and get pure water. Additionally, sump pumps can be a beneficial addition to any home. They are designed to drain excess water to another point far away from the home, preventing foundation damage.
Homeowners who take the steps to install a device, or simply just inspect their water supply regularly, have a much higher chance of stopping a leak in its tracks. Don't let water damage your home-be proactive and stay aware!
Links used:
https://www.bloomberg.com/news/sponsors/chubb/the-hidden-property-damage-danger-lurking-in-your-home/?adv=13632&prx_t=0foCAnKMSAYikPA
https://www.bloomberg.com/news/sponsors/features/chubb/the-property-damage-youre-most-likely-to-suffer/?adv=13632&prx_t=z_oCAmKMSAYikPA
https://www2.chubb.com/_global-assets/documents/chubb_waterdefensetips.pdf
http://www.clearyinsurance.com/wp-content/uploads/Cleary_Logo.jpg
0
0
Carol LaCombe
http://www.clearyinsurance.com/wp-content/uploads/Cleary_Logo.jpg
Carol LaCombe
2018-04-25 15:10:10
2018-05-23 11:34:45
Little Drips Make for Big Waste