Is Your Business Prepared for a Natural Disaster?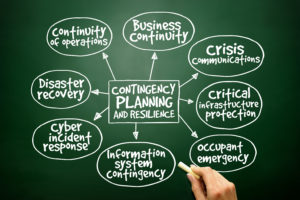 While all businesses should have a plan in place to protect their employees and their bottom line when a natural disaster hits, they should also consider their location and the insurance that is necessary to keep their doors open after a catastrophic event.
For a detailed disaster plan you can visit the link: https://www.fema.gov/pdf/library/bizindst.pdf
Reviewing the insurance plan:
Businesses should review their insurance plan to reduce out of pocket expenses. Make sure you have significant coverage to pay for the indirect costs of the disaster, disruption to your business and the cost to repair or rebuild your premises. Most policies do not cover flood or earthquake damage and you may need to buy separate insurance for these perils. Be sure you understand your policy deductibles and limits. New additions or improvements should also be reflected in your policy. This includes construction improvement to a property and the addition of new equipment.
For a business, the costs of a disaster can extend beyond the physical damage to the premises, equipment, furniture and other business property. There's the potential loss of income while the premises are unusable. Your policy should include business interruption insurance and extra expense insurance. Even if your basic policy covers expenses and loss of net business income, it may not cover income interruptions due to damage that occurs away from your premises, such as to your key customer or supplier or to your utility company. You can generally buy this additional coverage and add it to your existing policy.
Basic commercial insurance to consider:
Building coverage provides coverage up to the insured value of the building if it is destroyed or damaged by wind/hail, or another covered cause of loss. This policy does not cover damage caused by a flood or storm surge nor does it cover losses due to earth movement, such as a landslide or earthquake, unless added by endorsement.
Business personal property provides coverage for contents and business inventory damaged or destroyed by wind/hail, or another covered cause of loss.
Tenants improvements and betterments provides coverage for fixtures, alterations, installations, or additions made as part of the building that the insured occupies but does not own, which are acquired and made at the insured's expense.
Additional property coverage provides for items such as fences, pools or awnings at the insured location. Coverage limits vary by type of additional property.
Business income provides coverage for lost revenue and normal operating expenses if the place of business becomes uninhabitable after a loss during the time repairs are being made.
Extra expense provides coverage for the extra expenses incurred, such as temporary relocation or leasing of business equipment, to avoid or minimize the suspension of operations during the time that repairs are being completed to the normal place of business.
Ordinance or law provides coverage to rebuild or repair the building in compliance with the most recent local building codes.
http://www.clearyinsurance.com/wp-content/uploads/Cleary_Logo.jpg
0
0
Carol LaCombe
http://www.clearyinsurance.com/wp-content/uploads/Cleary_Logo.jpg
Carol LaCombe
2017-11-02 10:44:53
2017-11-09 14:40:49
Is Your Business Prepared for a Natural Disaster?