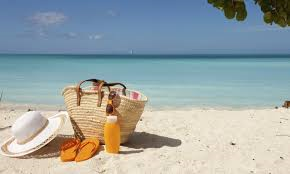 Summer is an exciting time of the year that is typically filled with cookouts, outdoor activities, and other events. To promote a happy, healthy summer, try following these five wellness tips:
Drink plenty of water. Dehydration in the summer months can make you more susceptible to heat exhaustion and heatstroke. To avoid symptoms of dehydration such as dizziness, weakness, and fatigue, try to drink at least eight to ten glasses of water throughout the day.
Watch what you eat at summer cookouts. Common cookout foods like burgers and hot dogs are full of fats that can make you feel lethargic. Sticking to lighter more refreshing foods like fish, pasta salads and watermelon can give you more energy while still satisfying your appetite.
Protect yourself from the sun. Protect yourself from the harmfulness of UV rays by wearing protective clothing, staying in shaded areas during the sun's highest points (from 10 a.m. to 4 p.m.) and using a sunscreen with an SPF of at least 15. It may also be a good idea to install an air conditioner (get in touch with professionals from brookshvac.com/ac-installation/) so that you don't have to worry about sweating at all times.
Exercise safely outside. Exerting high amounts of energy in the heat raises your body temperature, making you more at risk for heat exhaustion and stroke. Make sure to drink lots of water, wear breathable clothing and have healthy snacks to fuel your body.
Take a vacation to prevent burnout. Reduced productivity, exhaustion and decreased engagement are all symptoms of burnout. Taking time away from your work responsibilities to get your mind and body in check is essential to keep up work performance and overall health.
http://www.clearyinsurance.com/wp-content/uploads/Cleary_Logo.jpg
0
0
Carol LaCombe
http://www.clearyinsurance.com/wp-content/uploads/Cleary_Logo.jpg
Carol LaCombe
2020-08-10 11:31:45
2020-08-10 13:15:21
5 Summer Wellness Tips