Business Interruption Insurance 101: During the Pandemic and Beyond
More than a year into the COVID-19 pandemic, businesses have gotten used to a "new normal." But with new waves of the virus surging and wide-spread distribution of a vaccine still to come, small businesses need to know how to manage their risks.
We've shared the top questions you need to ask your insurance broker during the worsening pandemic. We also know that one of the biggest questions on business owners' minds is about business interruption.
If your business has to shut down during the latest wave of the pandemic, do you know if you're covered by your insurance policy? Even if you have business interruption insurance, you probably are not covered.
Read on to learn what business interruption insurance is, what it covers, and whether the pandemic will have any long-term effect on these policies moving forward.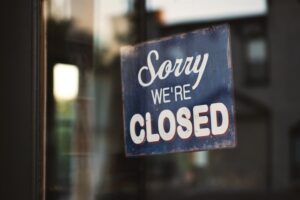 What is business interruption insurance?
Business interruption insurance is a policy that helps businesses recoup income lost when operations are halted due to direct physical loss or damage. While not usually sold as a stand alone coverage, business interruption insurance is often included as an add-on to a comprehensive business owner's policy or a commercial property insurance policy.
Looking for commercial insurance? Speak with a Cleary Insurance representative to make sure your business's unique challenges and risks are covered.
What events are covered?
Business interruption insurance applies after covered events that result in physical damage to business property, thereby preventing operations from running as usual. Examples of covered events include:
Fire
Natural disasters, like tornadoes and hurricanes
Wind
Lightning
Vandalism or damage from riots
However, not all catastrophes are covered by business interruption insurance. Exceptions include:
Floods and earthquakes. These are typically covered under a separate policy.
Policies have exclusions for losses due to viruses or communicable diseases, as these do not cause direct physical damage.
What types of losses are covered?
Business interruption insurance typically covers the following expenses:
Operating expenses, including mortgage, rent, or lease payments
Moving to a temporary location & reasonable expenses to keep the business operating
Payroll
Taxes
Loan payments
Profits that would have been earned, based on documented pre-loss earnings. If you can't prove you would have earned that income, you cannot submit a claim against it.
Replacing machinery and retraining employees
Please also note that claims are only paid out if the insured business actually sustains a loss as result of the business interruption.
How long does coverage last?
Business interruption insurance coverage lasts until the end of the business interruption period, as specified in your policy. The standard policy limits the restoration period to 30 days, but this can often be extended up to 1 year by endorsement.
How much does business interruption insurance cost?
Business interruption insurance average cost varies based on factors like:
Industry
Number of employees
Amount of coverage
Prior claims
Location
When calculating the cost for your business, keep in mind that business interruption insurance premiums are tax-deductible.
How much coverage do you need?
We recommend that you choose a coverage limit appropriate for your business, based on factors like how long it would take your business to resume operations following a loss.
Work back from the worst-case scenario – how long would it take you to repair the physical damage, get new equipment, and retrain staff? Keep in mind that if your costs exceed your coverage limit, you will have to pay out of pocket for extra expenses.
At Cleary Insurance, we work with business owners to help them get the right amount of coverage based on their specific business risks, earnings, and projections. If you're unsure what that looks like for your business, we can help.
http://www.clearyinsurance.com/wp-content/uploads/Cleary_Logo.jpg
0
0
Carol LaCombe
http://www.clearyinsurance.com/wp-content/uploads/Cleary_Logo.jpg
Carol LaCombe
2021-03-03 10:06:48
2021-04-06 11:11:24
Business Interruption Insurance 101: During the Pandemic and Beyond