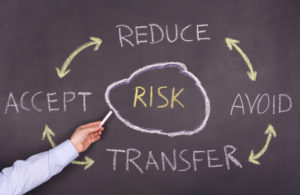 Presented by Christopher F. Hawthorne, CPCU, CIC
Insurance premiums fluctuate annually due to sales and payroll activity but also due to loss history.  The insurance policy provides money to rebuild damaged property, to defend in a liability suit, to pay settlements as well as take care of employees when they are injured on the job.  These combined costs are labeled as losses. An insurance loss has the potential of driving insurance premiums up for four or five years as well as limiting which carriers will wish to work with a client. When an insurance carrier is determining what it will offer in term of premiums, it will normally incorporate the prior four years of losses.  The fewer the losses, the lower the premium carriers can offer.
In years past, an entity would maintain an insurance program and on occasion ask for evidence of insurance or even ask to be named as an additional insured by an entity with which they might be doing business.  Today, insurance programs interacting with each other have become the norm. Often, an insurance program is significantly influenced by what a client, vendor, supplier, and or landlord requires. Not only are amounts of insurance spelled out but also contractual agreements on how the policies will interact.
This activity is known as Risk Transfer.  Risk Transfer can protect one parties insurance program and future premiums by transferring the cost of a loss to another party. Conversely, it can increase the future costs of the other party's insurance program.
The major types of protection risk transfer agreements request are as follows:
Hold Harmless-Party A holds Party B harmless for a loss when Party A has caused part or all of a loss.
Indemnify– Party A agrees to reimburse Party B for damages (settlements and judgments).
Defend– Party A agrees to pay the cost to defend Party B after a loss if Party B is named in a claim or suit.
Additional Insured Status– Party A provides coverage for Party B under Party A's insurance program for Operations and Completed Operations.
Primary Coverage-Party A states that it's coverage is primary should Party B be brought into the suit.
Non-Contributory Coverage-Party A states it's policy disallows Party B's policies from sharing in the loss.
Waiver of Subrogation-Party A disallows its insurance company from pursuing Party B's insurance carrier for any amount due to Party B's negligence that may have contributed to the loss.
When is it appropriate for one to agree to these terms? While this question is to be answered individually, the attorney and insurance broker should be consulted. The economic value of the relationship must be considered before agreeing to adding this exposure to one's liability.
When is it appropriate to ask for these terms? Whenever possible, as it greatly enhances the protection for an operation.
Not all agreements are the same and not all insurance policies can back them up. It is critical both parties involve their attorneys as well as their agents before signing. As always, a team approach and communication will put everyone in a better position to succeed.
http://www.clearyinsurance.com/wp-content/uploads/Cleary_Logo.jpg
0
0
Carol LaCombe
http://www.clearyinsurance.com/wp-content/uploads/Cleary_Logo.jpg
Carol LaCombe
2018-02-05 11:48:54
2018-02-08 12:08:54
Why Risk Transfer?